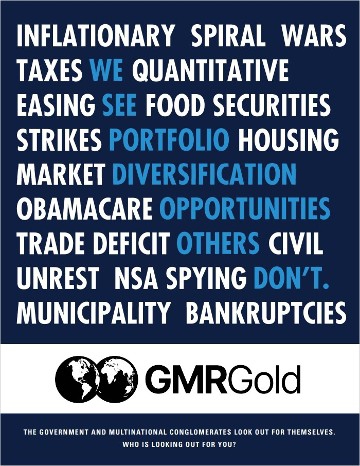 You don't have to travel far to see evidence that the American dollar is losing its power. The nest egg you've worked your whole life to build could be worth far less than face value when it's time to retire—turning your "life" savings into "a few years" savings. You know the only way to safeguard your wealth against inflation is to diversify your holdings, but how can you choose between the hundreds of providers of gold, silver, platinum, palladium, and numismatics?
How GMRgold Handles Your Precious Metals Investments
GMRgold isn't just an authorized provider of gold and silver. Our advisors work one-on-one with clients and have helped thousands of seasoned and first-time investors worldwide build the portfolio of their dreams. With more than 25 years of experience dealing in precious metals and studying market trends, founder Shannon Smith brings his wealth of knowledge to you at no charge in We See Portfolio Diversification Opportunities Others Don't.
When you download your free copy of the book, you will discover:
The many factors threatening the modern economy (and why your investments may not be secure)
Our proprietary method for building a portfolio that secures your assets while maximizing returns
The importance of transparency and product knowledge in a precious metal vendor
How precious metals give you much-needed liquidity and total control over your portfolio
Why we're the right choice of partner for your precious metals investment
Considering your options in gold and silver bullion and certified coins
One thing is certain as paper assets continue to lose value: you shouldn't leave your future in the government's hands. If you're looking to move into silver or gold bullion, numismatic coins, or other precious metals, our advisors are the trusted partner you need to strengthen your portfolio. Please fill out the form on this page to start reading our free guide immediately, or call 877-795-9585 to see how we can help you!
Fill Out this Form and Click the Below Button