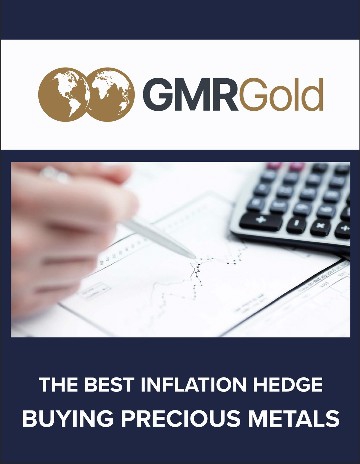 During the last recession, we saw too many hard-working Americans lose way too much of their retirement, and GMRgold wanted to make sure they were positioned to to help you prevent it from happening again.
The purpose of this FREE e-book is to outline the basic concepts of hedging against inflation with precious metals.
Our main focus is to provide every client with the most comprehensive information so that you can make an educated and informed decision about your precious metals options and how they can protect your retirement.
You never know when the financial markets will take a dip, or even experience a major correction. The truth is the stock market is erratic. Sure, traditional financial advisors always suggest you invest in the stock market, but do you know why? Well, simply put, they earn commission when they put you in stocks. Why don't they recommend gold, silver, platinum and palladium? Simple again, they don't earn commission if they do. So ask yourself, if you goal truly is diversification and maintaining your financial dream, shouldn't you consider true diversification - diversification into precious metals?
If you are in charge of your financial future, it is imperative that you read this FREE e-book before you make one more investment. In this FREE e-book, you will learn everything you need to know about investing in precious metals, and how to take full advantage of the benefits of investing in gold, silver platinum, palladium and more.
Fill out the form on this page to receive your FREE copy of this e-book today!
This e-book will help you understand the various types of diversification options including buying gold, leveraging silver, and so much more. In addition, it will provide you with information you need to:
Prepare for the unexpected stock market collapse
Reduce investment risks
Provide strong evidence for investing in precious metals
Navigate the purchasing process
Combat any negativity being presented to you by others related to precious metals diversification
Financial advisors are in the business of making money—often at your expense. They regularly only provide you with options that they make the most commissions on. Reading this FREE e-book will help you to understand how they operate and give you the knowledge and tools to push back when they treat you like an unseasoned well researched investor.
This FREE e-book will also help you to understand why you should take the time to fully understand your portfolio—even the fine print. Finally, the e-book will help you to determine when you need to seek the help of an experienced precious metals advisor.
Fill Out this Form and Click the Below Button