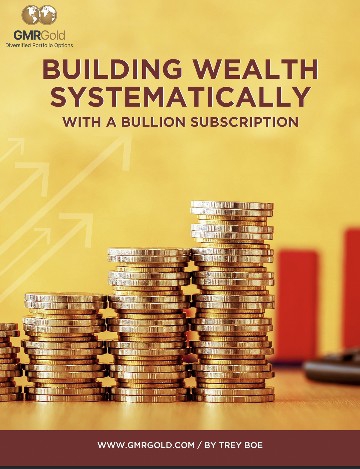 A rapid-changing economic environment is not healthy for stocks and real estate bonds. Also, when you invest in gold certificates, you only have a piece of paper as proof. If you put your hard earned money in these types of holdings, you're not getting tangible assets. This is why investing in a monthly precious metals subscription box can help you build systematic wealth. When you sign-up for a BullionBox subscription, you get to keep physical precious metals in your your possession as your investment – the most secure type of asset and safe haven for value.
This is exactly why we wrote this FREE e-book. You will find important information specifically related to building systematic wealth using GMRgold's monthly bullion box subscription plan, regardless if you're a newbie or a seasoned pro.
If you are in charge of your financial future, it is imperative that you read this FREE e-book before you make one more investment. In this FREE e-book, you will learn about the various options you have when diversifying into precious metals. It also outlines ideas for you if you already have a precious metals portfolio and you just want more steady diversification.
This FREE e-book talks in detail about precious metals subscription plans, and how to take full advantage of the benefits of investing in a monthly delivery of gold, silver platinum, palladium and more, especially when done right.
Fill out the form on this page to receive your FREE copy of this e-book today!
This book will help you understand the various types of options you have when purchasing a subscription plan in gold, silver, and so much more. In addition, it will provide you with information you need to:
Prepare for the unexpected stock market collapse
Reduce investment risks
Provide strong evidence for investing in precious metals
Navigate the purchasing process
Combat any negativity being presented to you by others related to precious metals diversification
This FREE e-book will also help you to understand why you should take the time to fully understand how and why to diversify into a monthly subscription box of precious metals—even if you are just now starting out. Finally, this e-book will help you to determine when you need to seek the help of an experienced precious metals advisor.
Fill out the form on this page and download your FREE copy of this e-book right now. You can start learning about precious metals today!
Read this e-book or contact GMRgold if you are an individual needing guidance and feel that your financial advisor ins't giving you all the facts. We can help you understand your portfolio and give you the benefits you could experience with a well diversified precious metals portfolio.
Contact us, knowledgeable precious metals advisors, to discuss your goals.
Fill Out this Form and Click the Below Button