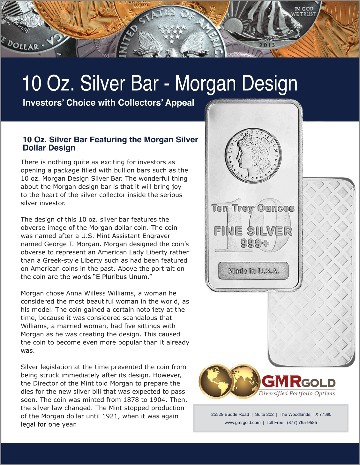 10 oz silver bars with very low premiums, making them the perfect choice for investors seeking the lowest cost per ounce without going overboard when it comes to size. They are great for experienced stackers and for beginners learning how to buy silver. We always provide current and competitive silver prices - live!
Besides the 5 ounce size offered by GMRgold, the 10 ounce size is among the most popular (and the most liquid) for those collecting silver bars. Investors can buy silver online with confidence, knowing their bars will be easy to sell for a great price when the time comes. Keep up with the silver prices!
Each and every one of these Morgan Design pure silver bars is made in the USA by refiners offering the highest quality, most beautiful products.
All of our silver bullion bars are stamped with weight and purity. Most also carry the hallmark or mint mark of the manufacturer. Each fine Morgan silver bar is individually sealed and protected in plastic.
The Johnson Matthey / Engelhard silver bars are among the most well known in the industry, but those firms no longer manufacture under those names. Johnson Matthey has been acquired by Asahi, and Engelhard ceased operations years ago.
Current US Based Manufacturers of 10 oz Silver Bars
Highland Mint
SilverTowne
Sunshine Minting
Asahi
Fill Out this Form and Click the Below Button